A PAN-ASIA PERSPECTIVE INTO THE BOLD
NEW FUTURE OF HR LEADERSHIP
Thank you for joining us at the 2020 conference. Missed it? Don't fret.
Purchase your access to watch the sessions on demand – access will start from 5 November.
When
20 – 22 October 2020
Time
9.30am – 3.30pm
(GMT+8 / SGT)
When
20 – 22 October 2020
Time
9.30am – 3.30pm
(GMT+8 / SGT)
20+
Research-backed sessions
20+
Research-backed sessions
Recover, thrive and disrupt at this pan-Asia virtual conclave of HR minds

Unifying HR and business leaders from across Asia under one virtual roof, the region's pioneer of bespoke HR events – Human Resources Online – is proud to unveil a refreshing lens into the bold new future of HR leadership.
#AccelerateHR sets forth an ambitious agenda for forward-thinking leaders across Asia. Join us as we turn this new reality into a journey of endless opportunities to adapt, sustain and create true value.
Drawing on the expertise of local, regional and international HR thought leaders, we spotlight the two most relevant themes to catalyse HR in 2021 – Learning & Development and People Analytics. The full three-days of content will grant you access not only to the cross-pollination of best practices from your peers across sectors but also, you'll deeply benefit from the diversity in thought.
Join us on the virtual side as we uncover how to reboot, recover and elevate – all from the comfort of your home, office or favourite work spot!
Follow #AccelerateHR on social media for latest updates on the conference.
As HR evolves to take on a more strategic business enablement role, your impact on the organisation's competitiveness and value proposition, especially during unprecedented times of crisis, has been a game-changer.
At Accelerate HR 2020, explore the role of HR in a post-pandemic world and how you can better integrate your people strategy with your business strategy.
We want you to tap into the full potential of your employees and empower them to bring their A-game to work. Together let's strive to optimise your current strategies for an engaged, agile and productive workforce in 2021 and beyond.
Why two streams within #AccelerateHR?
#AccelerateHR aims to help business leaders critically analyse how and what you can do to move your business to the next level in the most cost-effective yet impactful way. This year, we spotlight two relevant and important topic areas across all industries, HR functions and seniorities:


With tight labour markets and the shortened shelf life of skills, the L&D function plays a critical role in helping employees acquire and grow the right skills to maintain market competitiveness.
In this theme, explore the exciting world of L&D through three blocks of a learning organisation:
1. A supportive learning environment.
2. Concrete learning processes and practices
3. Leadership behaviour that provides reinforcement.

With the proliferation of analytics, AI and HR cloud, organisations and leaders must remain agile to effectively adapt to the future of work to improve bottom-line business results.
This theme will allow you to dive deeper on how to better use data to support your talent life cycle and improve business performance.
Optimising ground research with both HR practitioners and solution providers, the 3 day virtual conference will highlight the top concerns that have surfaced in recent times. All topics will capture the next step to elevate HR and the business to the next level.

Preparing for the post pandemic world ( Day 1 )
HR as a strategic enabler.
Recession management.
Becoming a trusted advisor.
Fostering a thriving business model ( Day 1 )
Planning your talent cycle.
People-centric design through purpose.
Culture of innovation.
Purpose-driven mission.

Learning & Development ( Day 2 & 3 )
Bite size learning campaigns.
High-impact learning design.
Employee engagement.
Tackling skills shortage.
Designing career pathways and collaborations.

People Analytics ( Day 2 & 3 )
Predictive HR analytics.
Driving profit margin through data.
Leveraging data principles for employee experience.
Digitised performance management.
Data storytelling.
Five key takeaways you will get by attending
#AccelerateHR
Embrace the new future of HR leadership
Drive business initiatives with confidence that will help your company remain agile.
Keep your talent renewed and energised to perform
Upskill and reskill your talent to ensure they remain progressive and do their part in growing the business.
Co-create solutions with market leaders
Challenge conventional norms with proven solutions that work and adapt them to your own context.
Tackle the rise of the alternative workforce
Build a learning culture that taps into the potential and preferences of all learners.
Connect with Asia's passionate HR community
Network and collaborate with more than 400 passionate HR and business leaders across industries and countries.
Great brands who have participated in our events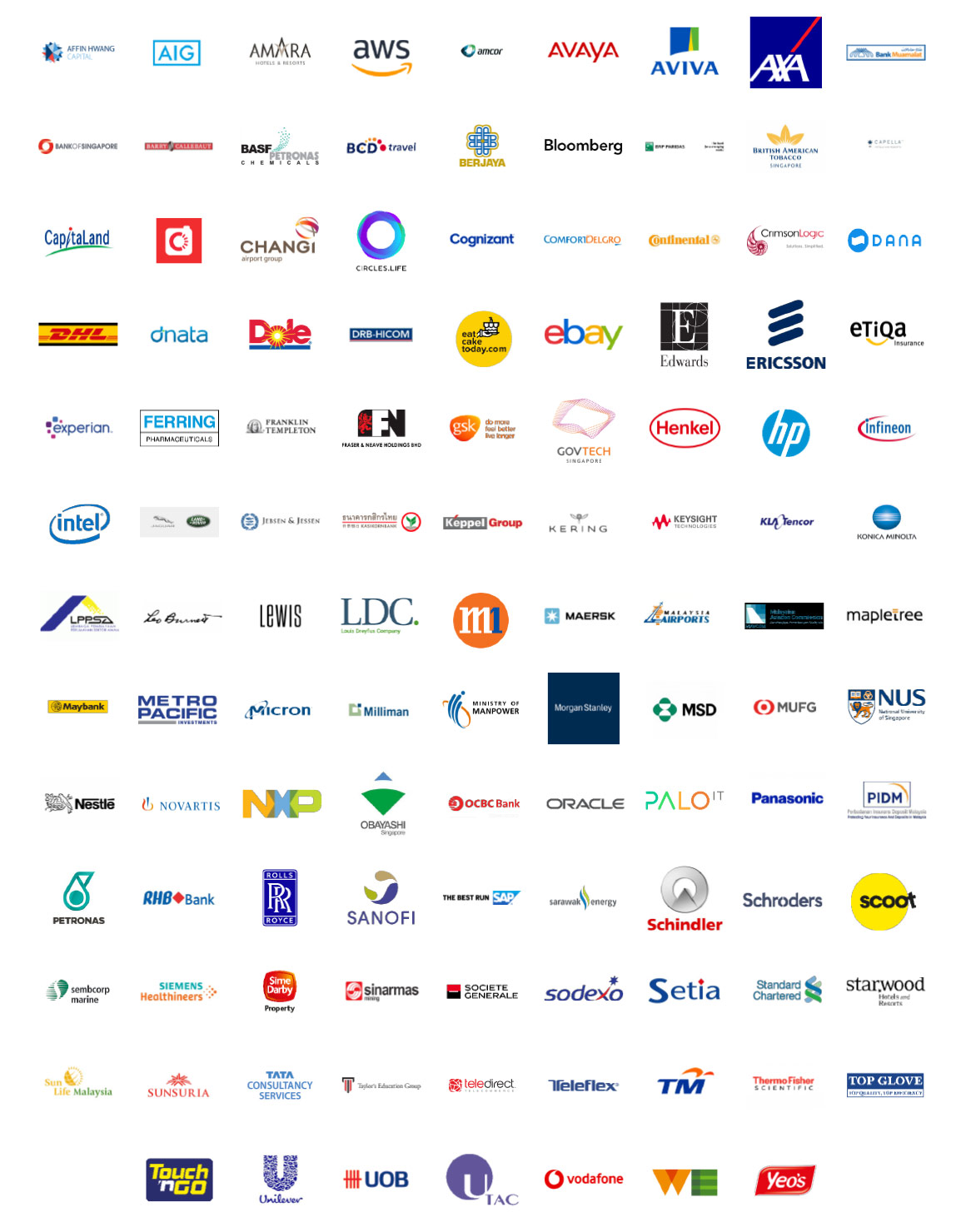 Common challenges HR professionals face;
Let's tackle the issues together
As seasoned HR professionals, we are all faced with these challenges when it comes to accelerating the HR function and performance in our organisations. It's time to identify the causes and start asking questions that will lead us to solutions. While we may not have the full answers now, let's get onto the Accelerate HR community to source for ideas, proven case studies and tap on the robust and in-depth expert knowledge from the speakers.
Making sense of data
HR leaders are overwhelmed and drowning with choice when it comes to analysing relevant data in order to identify patterns that have immense impact on the business. Hence being equipped with the skill sets to tell and "sell" the data story is much needed.
Strategic business alignment
Looking beyond the tools, HR needs to strengthen its position as a valued business partner by being agile and adaptable to the demands of the fast changing environment. There is a need to address the root problems which would begin with strategic alignment.
Measurements and insights
Many HR teams are grappling with how to measure the effectives of their programmes, and how to derive actionable results that will ensure business profitability and sustainability.
Achieving business goals through effective teams
Often times HR struggles with tapping into the full potential of high performing individuals to successfully unlock effective teams. As skills emerge, evolve and expire, L&D plays a critical role in boosting employee skills preparedness.
Don't just take our word for it,
see what our past attendees have to say!
"The total rundown with many different industries has increased my understanding in L&D in more practical approaches in daily work."
"This is a great conference for companies who want to change the game in talent management."
"Expect the sharing of real business case studies across senior representatives from various industries."
"I liked the speakers and the opportunity to exchange ideas with other HR practitioners. It was an inspirational event and I will be bringing some new ideas back home."
"Impressive presentations – I like that there are opportunities for delegates to network with the speakers."
Dassault Systemes Innovation Tech
"Topical contents, lots of takeaways, great networking opportunities."
Public Service Division, Prime Minister's Office
"The speakers come from different industries and bring different points of view and experiences."
"Overall the organisation was very good and the quality of the speakers was excellent."
"The organiser identified the right topic- Digital transformation for HR."
"I enjoyed the sharing of thoughts and practices from CEOs and heads of HR and L&D."
"This conference was very informative and offered great insights to different approaches and strategies that organisations have adopted for L&D. The agenda consisted of amazing speakers and participants."
"All the speakers spoke well and shared lots of insights. I could tell that they had lots of experience in the HR Tech field."
Learn more about how we can help you achieve your mission-critical priorities and position your business as the brand of choice for HR solutions. We have the right platform for you at Accelerate HR curated by Human Resources Online.
Past sponsors & partners at our events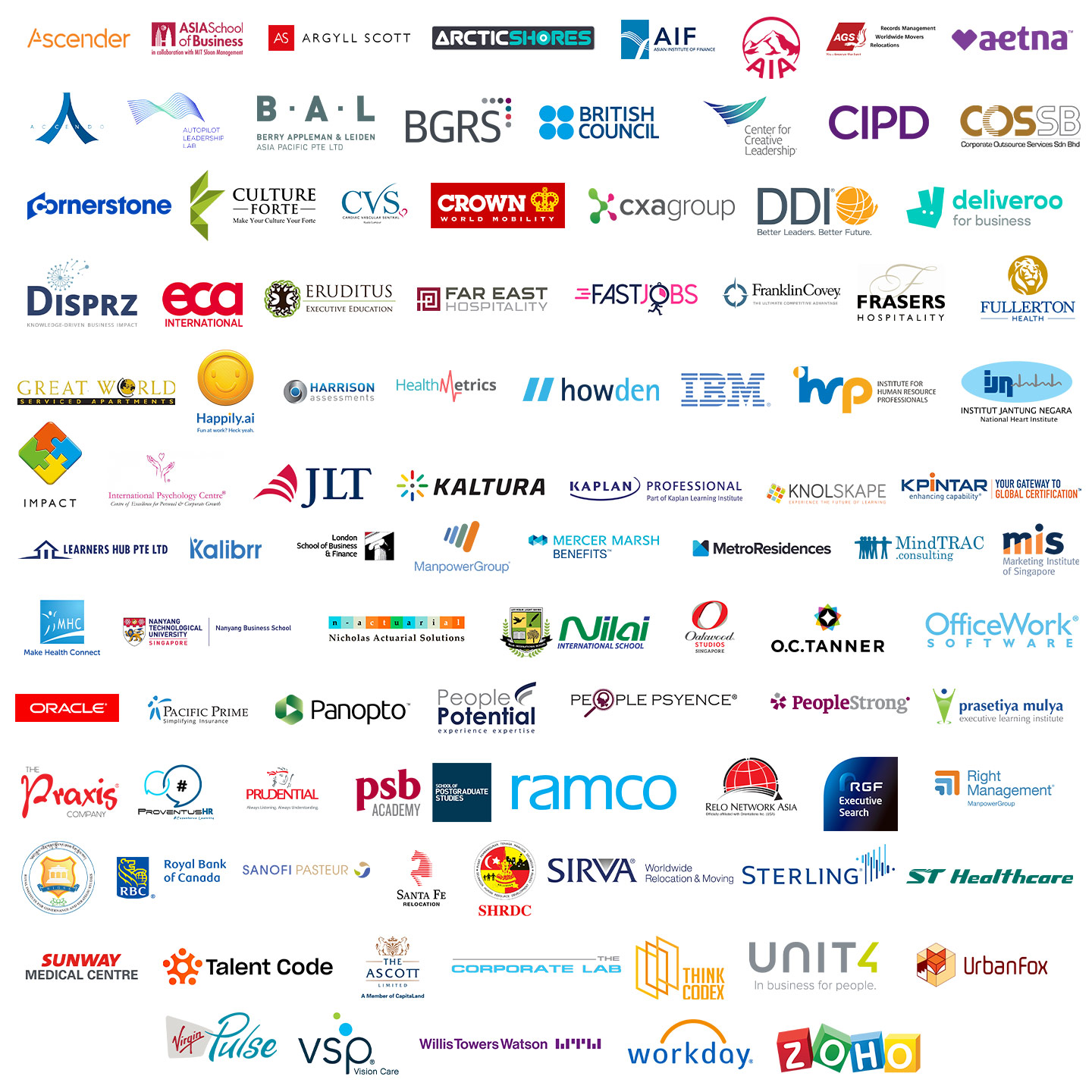 Become our strategic partner today!
How P&G's 4D culture helps with successful digital transformation
Case study: Approaching personalised learning through the lens of the learner
Industry Insiders: Tackling the toughest talent challenges
How to keep employees engaged – from recruiting to offboarding
Leadership best practices that have stood the test of time
Leadership and career enablement top APAC's learning list amid COVID-19
Performance vs potential: The age-old debate among managers
Is technology the dark knight for HR?
HRUnplugged: The value proposition of a centralised HR model to business excellence
5 key trends and how business leaders can harness the power of data
Are you bold enough to lead
the new future of HR?