Following great success since its launch in 2014, Human Resources Online is proud to bring you HR Tech Interactive, a one-day, by-invite only conference, that will gather Malaysia's cream of the crop – from HR leaders to CHROs – who are experts in managing the digitisation and effective implementation of technological tools in their organisations.
This event is a game-changer within the tech arena as it unpacks an unrivalled speaker line-up and business-related topics that will broach frontiers with HR tech. Get an exclusive front row seat and hear fellow peers share their expertise about the HR tech journey they have embarked on, challenges, solutions and learning points through keynote presentations, panel discussions and interactive round tables which will amplify the most crucial issues faced in today's business.
Finding the right tools is the first step towards making a mark in Malaysia's competitive landscape. Venture beyond the tools, and learn how to make sense of the data captured by personalising dashboards that make sense to you and the business.
It's your time to make a difference and level up your game.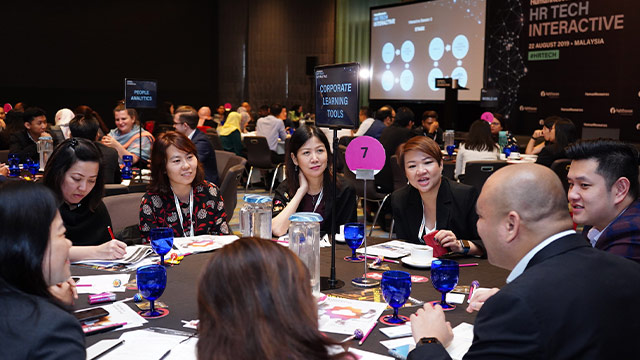 Why you must attend #HRTech Interactive
Think beyond adoption
Pick the brains of 80 high calibre talented professionals and critically analyse how and what else you can do to move your business to the next level.
Expect undiluted, top-level discussions
No other conference can deliver high calibre topics, and offer you a seat alongside Malaysia's top 80 senior decision-makers and influencers.
A tighter grip on the business
Know exactly what your ROI is and take home thought processes that will shed light on whether you should be pulling the plug on some of your initiatives and expenditures.
Building a tech-savvy workforce
Utilise technology to attract, train, develop and retain employees who see the value and purpose of working with your organisation.
Asking the right questions
You don't know what you don't know until you fire the right questions ! Hear some of the business-related questions your peers are asking relevant stakeholders to test strategies with honest feedback.
Human Resources Online has been the leading source of information for HR decision-makers in Asia for over a decade. In print and online, Human Resources Online is read by more senior HR professionals than any other HR media brand in Asia.
Part of the Forum Media Group, which has offices in 26 countries around the world, Lighthouse Independent Media is the publisher of the market-leading Human Resources Online.
Lighthouse has a fast-paced, high-performance culture and the company's products are market-leaders, driven by a team of high-achieving professionals.
Sponsorship opportunities
Sponsorship
opportunities