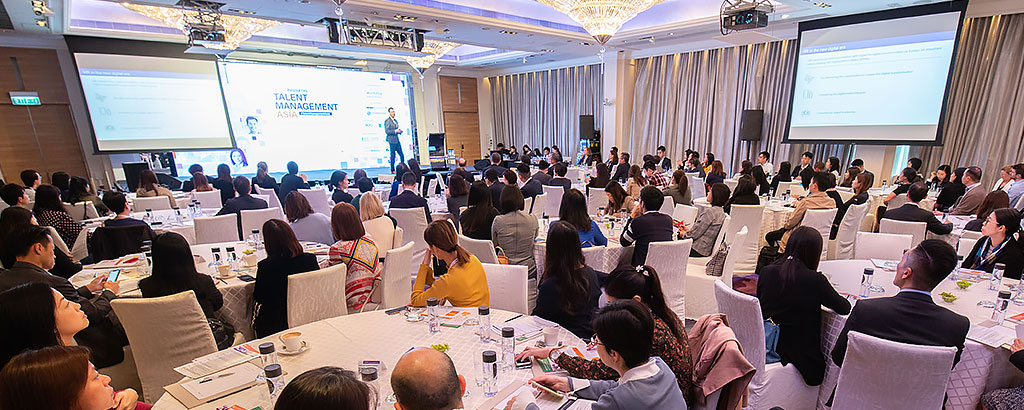 About the event
Facing the economic, socio-political, as well as financial and industrial challenges of today, human resource management is now more than ever, a pivotal initiative that companies, big or small, local or multinational, cannot undermine. Talent Management Asia is designed to help HR leaders and practitioners navigate through these challenges while being educated of the best practices and trends that will empower and add value to you as individual and as a HR professional.
Held on the 3rd and 4th of November at the Mira Hotel, Talent Management Asia returns to Hong Kong for its sixth consecutive year. Themed over two days, we are bringing you an impressive line -up of HR experts and technology influencers to share their experiences and insights on the very latest trends, challenges and opportunities facing HR professionals today.
Some of the major trends set to redefine talent management in 2020 and beyond include: "Future of Work – Humanized Automation", "Managing and Motivating Your Talents at times of Uncertainty", "Employer Branding & Culture as an Influence on Retaining Talent" and "The Many Upsides of a Happy Workforce".
Take advantage of this unique opportunity to learn from the best, and join over 250 HR and business leaders for another full house and map your route to recruiting, retaining, enabling, and developing the very best talent.
Why attend?
Talent Management Asia 2020 Hong Kong will help you create a cutting-edge function that will put you way ahead of your competition.
What you will gain from this conference:
Network with like-minded practitioners from the industry
This event brings together professionals and practitioners from different industries that share common interests and goals, which then provide a perfect avenue for effective and efficient networking. Our events are ideal to meet new people as well as to catch up with those that you haven't connected for a while within the industry.
Expand your knowledge; be updated with issues and trends of today
Well-informed and updated presentations, best practices as well as case studies will be the focal points of presentation at this event. Attendees will be in the forefront of trends as well as issues that are critical to the industry, enabling you to do your work effectively and efficiently. Take the opportunity to learn and ask questions to understand the rationale behind these ideas and go beyond from reading journals and articles.
Fun, educational and engaging
We are all different, but we are all human. We try to go beyond just hosting a conference with our educational yet enjoyable themes and topics. Our speakers as well as our programs are very detailed and in tuned to what accounts for a successful and meaningful experience and within the industry
If you fall into one of the following job titles, this conference is definitely for you!
CHRO/Head of HR
VP/Director/Manager of HR
VP/Director/Manager of Talent Acquisition
VP/Director/Manager of Recruitment
VP/Director/Manager of Resourcing
Talent Acquisition/Recruitment/Employer Branding/Attraction/Training & Development/Onboarding Specialist
Department Head/Team Leader
Testimonials
Don't take our word for it! Hear what senior HR executives have to say:
"Great diversity of speakers from different industries and backgrounds." 
"Interesting topics, great sharing from companies of different industries and histories."
"Very relevant HR hot topics discussion and valuable insights from leading HR professionals in Hong Kong."
Airport Authority Hong Kong
Arcadis Hong Kong
AS Watson Retail Hong Kong Ltd
Asia Miles Ltd
Baker McKenzie
Bank Julius Baer & Co Ltd Hong Kong
Bank of China Hong Kong Ltd
BASF East Asia Regional Headquarters Ltd
Berlin Finance Group
BNP Paribas Asset Management Hong Kong
Brooks Brothers
Caceis Investor Services Hong Kong
Cathay Pacific Airways
China CITIC Bank International Ltd
Cigna Worldwide Life Insurance Co Ltd
CMG Hong Kong
Constituency Management Group
Credit Agricole Hong Kong
CVC Asia Pacific Ltd
Dah Sing Bank Ltd
Dairy Farm Co Ltd
DHL Express Hong Kong Ltd
Estee Lauder Hong Kong Ltd
Euroclear Bank Hong Kong
Fendi Asia Pacific Ltd
Fonterra Brands Hong Kong Ltd
Fuji Xerox Hong Kong Ltd
Galaxy Entertainment Group
Gerson Lehrman Group Asia Ltd
Grosvenor Ltd
H&M Hong Kong
Haitong International Securities Group Ltd
Hallmark Cards Hong Kong Ltd
Hilburg Malan
Hong Kong & China Gas Co Ltd
Hong Kong Disneyland
Hong Kong SkyCity Marriott Hotel
Hong Kong Trade Development Council
Hong Kong University of Science & Technology
Hopewell Holdings Ltd
HSBC Data Processing (Guangdong) Limited
HSBC Hong Kong
Hutchison Port Holdings Ltd
IBM Hong Kong Ltd
ICBC Asia Ltd
Jardine Schindler Group Hong Kong
John Lewis Partnership PLC
Johnson & Johnson Hong Kong Ltd
JTH Group
Kaplan Financial Hong Kong Ltd
Kaplan Professional Hong Kong
Kering Asia Pacific Ltd
Kimberly Clark Hong Kong Ltd
KIPIC
lalamove.com
Langham Hospitality Group Hong Kong
Li & Fung Trading Ltd
Link Asset Management Ltd
LKK Health Products Group Ltd
Lush Asia Ltd
LVMH Asia Pacific Ltd
Marco Polo Hong Kong Hotel
MUJI Hong Kong
Nin Jiom Medicine Mfy (HK) Ltd
Nomura International Hong Kong Ltd
Otis Elevator Co Hong Kong Ltd
Panalpina China Ltd
Peak Reinsurance Co Ltd
Plaza Premium Lounge Management Ltd
Renaissance Harbour View Hotel Hong Kong
Rotam CropSciences Ltd
Schneider Electric Asia Pacific Ltd
Shiseido Hong Kong Ltd
Smarter Good
Southco Asia Ltd
Standard Life Asia Ltd
Swire Beverages Ltd
Swire Hotels Hong Kong
Taikang Asset Management Ltd
TAL Apparel Ltd
The Chinese University of Hong Kong
The Human Factor
The University of Hong Kong
Tory Burch Far East Ltd
Tung Wah Group of Hospitals
United Chinese Group
UPS Hong Kong Ltd
Vertiv
Wantedlab Inc Hong Kong
Wells Fargo Bank Hong Kong
Woolworths Global Sourcing Hong Kong
Workday Hong Kong
Zurich Insurance Hong Kong